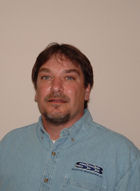 Lonnie Truskowski
Owner
From The Desk of: Lonnie Truskowski
Owner, Solutions for Small Business, LLC
Dear Fellow Business Owner,
It just amazes me how unreliable and arrogant some computer technicians are. When you call them for help, you end up talking to their voice mail. Then when you finally get them on the phone, they make you wait hours -- even days -- before they can actually come out to see you. Even at that, a lot of them are late, never really explain what they are doing, and as a final insult, bill you for work that you are not satisfied with!
Enough Is Enough!
I think it's about time someone finally got it right. That's why I decided to start a "one company revolution" and commit myself to delivering fast, affordable computer network support from a company that really cares about YOUR business.
Although I don't think this is an amazing concept, it still surprises me how many companies don't get it right. After all, you and I know that there are plenty of computer consulting firms out there offering some type of network support; but an awful lot of them are just interested in increasing their own billable hours. Some will even suggest unnecessary projects or scare you into a PAID FOR network and security audit. Their only intention is increasing THIER bottom line and growing THEIR business on your dime.
I've been supporting and maintaining networks and PCs in a business environment for more than fifteen years. I pride myself on being a "trusted advisor" for business owners like you. I believe in building business partnerships and know YOUR business deserves more than just being another customer. When you hire Solutions for Small Business for ANY project, not only can you expect it to be done right, but you can expect it to be done on time and on budget. You will be quoted ONE price and I will do everything that needs to be done to meet or exceed your expectations without charging you an additional penny. This is my "100% Fixed Price Guarantee".
If you're interested in getting superior service from a trusted advisor that cares as much about your business as you, I'd like to give you a complimentary "Get Out Of Computer Trouble Free" card that entitles you to 2 hours of FREE computer support. I'm offering this as a gift to all prospective clients so they can get to know me better without any cost or risk on their part. But please HURRY as you can imagine I can only allow a few of these per month, in fact 5 per month is my limit. To secure your 2 FREE hours click here to sign up, or CALL 371-6682 if you have an emergency that needs immediate attention.
Sincerely,

Lonnie Truskowski
Owner
Solutions for Small Business, LLC